I ve mentioned in the past my
twisted EE network setup
from when I moved in to my current house. The 4GEE WiFi Mini (also known as the EE Osprey 2 Mini or the EE40VB, and actually a rebadged Alcatel Y853VB) has been sitting unused since then, so I figured I d see about trying to get a shell on it. TL;DR: Of course it s running Linux, there s a couple of test points internally which bring out the serial console, but after finding those and logging in I discovered it s running ADB on port 5555 quite happily available without authentication both via wifi and the USB port. So if you have physical or local network access, instant root shell. Well done, folks. And then I bricked it before I could do anything more interesting. There s a lack of information about this device out there - most of the links I can find are around removing the SIM lock - so I thought I d document the pieces I found just in case anyone else is trying to figure it out. It s based around a Qualcomm MDM9607 SoC, paired with 64M RAM and 256M NAND flash. Wifi is via an
RTL8192ES
. Kernel is 3.18.20.
Busybox
is v1.23.1. It s running
dnsmasq
but I didn t grab the version. Of course there s no source or offer of source provided. Taking it apart is fairly easy. There s a single screw to remove, just beside the SIM slot. The coloured rim can then be carefully pried away from the back, revealing the battery. There are then 4 screws in the corners which need removed in order to be able to lift out the actual PCB and gain access to the serial console test points.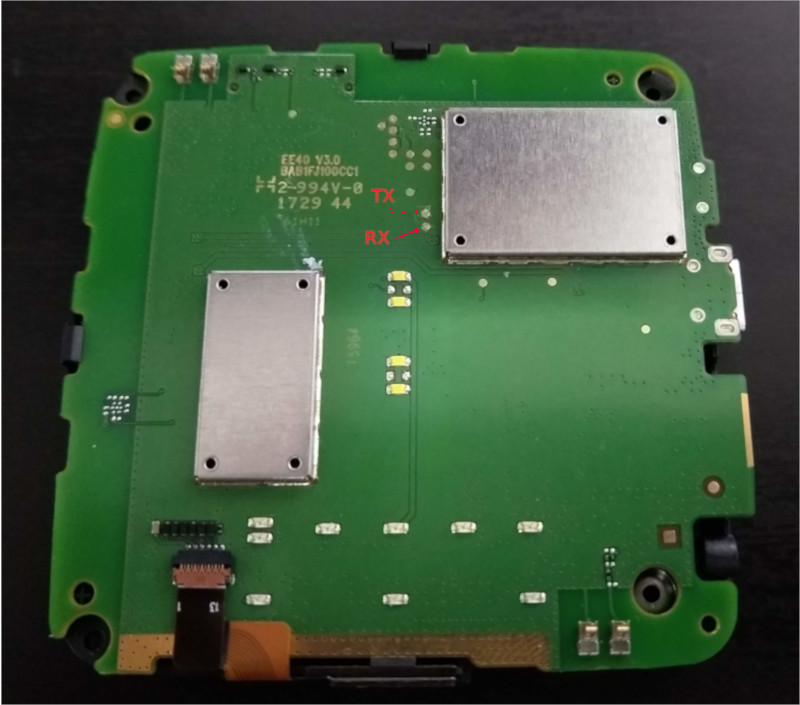 My mistake was going poking around trying to figure out where the updates are downloaded from - I know I m running a slightly older release than what s current, and the device can do an automatic download + update. Top tip; don t run
Jrdrecovery
. It ll error on finding
/cache/update.zip
and wipe the main partition anyway. That ll leave you in a boot loop where the device boots the recovery partition which tries to install
/cache/update.zip
which of course still doesn t exist. So. Where next? First, I need to get the device into a state where I can actually do something other than watch it boot into recovery, fail to flash and reboot. Best guess at present is to try and get it to enter the Qualcomm EDL (Emergency Download) mode. That
might
be possible with a custom USB cable that grounds D+ on boot. Alternatively I need to probe some of the other test points on the PCB and see if grounding any of those helps enter EDL mode. I then need a suitable firehose OEM-signed programmer image. And then I need to actually get hold of a proper EE40VB firmware image, either via one of the OTA update files or possibly via an Alcatel ADSU image (though no idea how to get hold of one, other than by posting to a random GSM device forum and hoping for the kindness of strangers). More updates if/when I make progress
Qualcomm bootloader log

Format: Log Type - Time(microsec) - Message - Optional Info
Log Type: B - Since Boot(Power On Reset),  D - Delta,  S - Statistic
S - QC_IMAGE_VERSION_STRING=BOOT.BF.3.1.2-00053
S - IMAGE_VARIANT_STRING=LAATANAZA
S - OEM_IMAGE_VERSION_STRING=linux3
S - Boot Config, 0x000002e1
B -    105194 - SBL1, Start
D -     61885 - QSEE Image Loaded, Delta - (451964 Bytes)
D -     30286 - RPM Image Loaded, Delta - (151152 Bytes)
B -    459330 - Roger:boot_jrd_oem_main
B -    461526 - Welcome to key_check_poweron!!!
B -    466436 - REG0x00, rc=47
B -    469120 - REG0x01, rc=1f
B -    472018 - REG0x02, rc=1c
B -    474885 - REG0x03, rc=47
B -    477782 - REG0x04, rc=b2
B -    480558 - REG0x05, rc=
B -    483272 - REG0x06, rc=9e
B -    486139 - REG0x07, rc=
B -    488854 - REG0x08, rc=a4
B -    491721 - REG0x09, rc=80
B -    494130 - bq24295_probe: vflt/vsys/vprechg=0mV/0mV/0mV, tprechg/tfastchg=0Min/0Min, [0C, 0C]
B -    511546 - come to calculate vol and temperature!!
B -    511637 - ##############battery_core_convert_vntc: NTC_voltage=1785690
B -    517280 - battery_core_convert_vntc: <-44C, 1785690uV>, present=0
B -    529358 - bq24295_set_current_limit: setting=0mA, mode=-1, input/fastchg/prechg/termchg=-1mA/0mA/0mA/0mA
B -    534360 - bq24295_set_charge_current, rc=0,reg_val=0,i=0
B -    539636 - bq24295_enable_charge: setting=0, chg_enable=-1, otg_enable=0
B -    546072 - bq24295_enable_charging: enable_charging=0
B -    552172 - bq24295_set_current_limit: setting=0mA, mode=-1, input/fastchg/prechg/termchg=-1mA/0mA/0mA/0mA
B -    561566 - bq24295_set_charge_current, rc=0,reg_val=0,i=0
B -    567056 - bq24295_enable_charge: setting=0, chg_enable=0, otg_enable=0
B -    579286 - come to calculate vol and temperature!!
B -    579378 - ##############battery_core_convert_vntc: NTC_voltage=1785777
B -    585539 - battery_core_convert_vntc: <-44C, 1785777uV>, present=0
B -    597617 - charge_main: battery is plugout!!
B -    597678 - Welcome to pca955x_probe!!!
B -    601063 - pca955x_probe: PCA955X probed successfully!
D -     27511 - APPSBL Image Loaded, Delta - (179348 Bytes)
B -    633271 - QSEE Execution, Start
D -       213 - QSEE Execution, Delta
B -    638944 - >>>>>>>>>>>>>>>>>>>>>>>>>>>>>>>>>Start writting JRD RECOVERY BOOT
B -    650107 - >>>>>>>>>>>>>>>>>>>>>>>>>>>>>>>>>Start writting  RECOVERY BOOT
B -    653218 - >>>>>>>>>>>>>>>>>>>>>>>>>>>>>>>>>read_buf[0] == 0
B -    659044 - SBL1, End
D -    556137 - SBL1, Delta
S - Throughput, 2000 KB/s  (782884 Bytes,  278155 us)
S - DDR Frequency, 240 MHz

littlekernel aboot log

Android Bootloader - UART_DM Initialized!!!
[0] welcome to lk
[0] SCM call: 0x2000601 failed with :fffffffc
[0] Failed to initialize SCM
[10] platform_init()
[10] target_init()
[10] smem ptable found: ver: 4 len: 17
[10] ERROR: No devinfo partition found
[10] Neither 'config' nor 'frp' partition found
[30] voltage of NTC  is 1789872!
[30] voltage of BAT  is 3179553!
[30] usb present is 1!
[30] Loading (boot) image (4171776): start
[530] Loading (boot) image (4171776): done
[540] DTB Total entry: 25, DTB version: 3
[540] Using DTB entry 0x00000129/00010000/0x00000008/0 for device 0x00000129/00010000/0x00010008/0
[560] JRD_CHG_OFF_FEATURE!
[560] come to jrd_target_pause_for_battery_charge!
[570] power_on_status.hard_reset = 0x0
[570] power_on_status.smpl = 0x0
[570] power_on_status.rtc = 0x0
[580] power_on_status.dc_chg = 0x0
[580] power_on_status.usb_chg = 0x0
[580] power_on_status.pon1 = 0x1
[590] power_on_status.cblpwr = 0x0
[590] power_on_status.kpdpwr = 0x0
[590] power_on_status.bugflag = 0x0
[590] cmdline: noinitrd  rw console=ttyHSL0,115200,n8 androidboot.hardware=qcom ehci-hcd.park=3 msm_rtb.filter=0x37 lpm_levels.sleep_disabled=1  earlycon=msm_hsl_uart,0x78b3000  androidboot.serialno=7e6ba58c androidboot.baseband=msm rootfstype=ubifs rootflags=b
[620] Updating device tree: start
[720] Updating device tree: done
[720] booting linux @ 0x80008000, ramdisk @ 0x80008000 (0), tags/device tree @ 0x81e00000

Linux kernel console boot log

[    0.000000] Booting Linux on physical CPU 0x0
[    0.000000] Linux version 3.18.20 (linux3@linux3) (gcc version 4.9.2 (GCC) ) #1 PREEMPT Thu Aug 10 11:57:07 CST 2017
[    0.000000] CPU: ARMv7 Processor [410fc075] revision 5 (ARMv7), cr=10c53c7d
[    0.000000] CPU: PIPT / VIPT nonaliasing data cache, VIPT aliasing instruction cache
[    0.000000] Machine model: Qualcomm Technologies, Inc. MDM 9607 MTP
[    0.000000] Early serial console at I/O port 0x0 (options '')
[    0.000000] bootconsole [uart0] enabled
[    0.000000] Reserved memory: reserved region for node 'modem_adsp_region@0': base 0x82a00000, size 56 MiB
[    0.000000] Reserved memory: reserved region for node 'external_image_region@0': base 0x87c00000, size 4 MiB
[    0.000000] Removed memory: created DMA memory pool at 0x82a00000, size 56 MiB
[    0.000000] Reserved memory: initialized node modem_adsp_region@0, compatible id removed-dma-pool
[    0.000000] Removed memory: created DMA memory pool at 0x87c00000, size 4 MiB
[    0.000000] Reserved memory: initialized node external_image_region@0, compatible id removed-dma-pool
[    0.000000] cma: Reserved 4 MiB at 0x87800000
[    0.000000] Memory policy: Data cache writeback
[    0.000000] CPU: All CPU(s) started in SVC mode.
[    0.000000] Built 1 zonelists in Zone order, mobility grouping on.  Total pages: 17152
[    0.000000] Kernel command line: noinitrd  rw console=ttyHSL0,115200,n8 androidboot.hardware=qcom ehci-hcd.park=3 msm_rtb.filter=0x37 lpm_levels.sleep_disabled=1  earlycon=msm_hsl_uart,0x78b3000  androidboot.serialno=7e6ba58c androidboot.baseband=msm rootfstype=ubifs rootflags=bulk_read root=ubi0:rootfs ubi.mtd=16
[    0.000000] PID hash table entries: 512 (order: -1, 2048 bytes)
[    0.000000] Dentry cache hash table entries: 16384 (order: 4, 65536 bytes)
[    0.000000] Inode-cache hash table entries: 8192 (order: 3, 32768 bytes)
[    0.000000] Memory: 54792K/69632K available (5830K kernel code, 399K rwdata, 2228K rodata, 276K init, 830K bss, 14840K reserved)
[    0.000000] Virtual kernel memory layout:
[    0.000000]     vector  : 0xffff0000 - 0xffff1000   (   4 kB)
[    0.000000]     fixmap  : 0xffc00000 - 0xfff00000   (3072 kB)
[    0.000000]     vmalloc : 0xc8800000 - 0xff000000   ( 872 MB)
[    0.000000]     lowmem  : 0xc0000000 - 0xc8000000   ( 128 MB)
[    0.000000]     modules : 0xbf000000 - 0xc0000000   (  16 MB)
[    0.000000]       .text : 0xc0008000 - 0xc07e6c38   (8060 kB)
[    0.000000]       .init : 0xc07e7000 - 0xc082c000   ( 276 kB)
[    0.000000]       .data : 0xc082c000 - 0xc088fdc0   ( 400 kB)
[    0.000000]        .bss : 0xc088fe84 - 0xc095f798   ( 831 kB)
[    0.000000] SLUB: HWalign=64, Order=0-3, MinObjects=0, CPUs=1, Nodes=1
[    0.000000] Preemptible hierarchical RCU implementation.
[    0.000000] NR_IRQS:16 nr_irqs:16 16
[    0.000000] GIC CPU mask not found - kernel will fail to boot.
[    0.000000] GIC CPU mask not found - kernel will fail to boot.
[    0.000000] mpm_init_irq_domain(): Cannot find irq controller for qcom,gpio-parent
[    0.000000] MPM 1 irq mapping errored -517
[    0.000000] Architected mmio timer(s) running at 19.20MHz (virt).
[    0.000011] sched_clock: 56 bits at 19MHz, resolution 52ns, wraps every 3579139424256ns
[    0.007975] Switching to timer-based delay loop, resolution 52ns
[    0.013969] Switched to clocksource arch_mem_counter
[    0.019687] Console: colour dummy device 80x30
[    0.023344] Calibrating delay loop (skipped), value calculated using timer frequency.. 38.40 BogoMIPS (lpj=192000)
[    0.033666] pid_max: default: 32768 minimum: 301
[    0.038411] Mount-cache hash table entries: 1024 (order: 0, 4096 bytes)
[    0.044902] Mountpoint-cache hash table entries: 1024 (order: 0, 4096 bytes)
[    0.052445] CPU: Testing write buffer coherency: ok
[    0.057057] Setting up static identity map for 0x8058aac8 - 0x8058ab20
[    0.064242]
[    0.064242] **********************************************************
[    0.071251] **   NOTICE NOTICE NOTICE NOTICE NOTICE NOTICE NOTICE   **
[    0.077817] **                                                      **
[    0.084302] ** trace_printk() being used. Allocating extra memory.  **
[    0.090781] **                                                      **
[    0.097320] ** This means that this is a DEBUG kernel and it is     **
[    0.103802] ** unsafe for produciton use.                           **
[    0.110339] **                                                      **
[    0.116850] ** If you see this message and you are not debugging    **
[    0.123333] ** the kernel, report this immediately to your vendor!  **
[    0.129870] **                                                      **
[    0.136380] **   NOTICE NOTICE NOTICE NOTICE NOTICE NOTICE NOTICE   **
[    0.142865] **********************************************************
[    0.150225] MSM Memory Dump base table set up
[    0.153739] MSM Memory Dump apps data table set up
[    0.168125] VFP support v0.3: implementor 41 architecture 2 part 30 variant 7 rev 5
[    0.176332] pinctrl core: initialized pinctrl subsystem
[    0.180930] regulator-dummy: no parameters
[    0.215338] NET: Registered protocol family 16
[    0.220475] DMA: preallocated 256 KiB pool for atomic coherent allocations
[    0.284034] cpuidle: using governor ladder
[    0.314026] cpuidle: using governor menu
[    0.344024] cpuidle: using governor qcom
[    0.355452] msm_watchdog b017000.qcom,wdt: wdog absent resource not present
[    0.361656] msm_watchdog b017000.qcom,wdt: MSM Watchdog Initialized
[    0.371373] irq: no irq domain found for /soc/pinctrl@1000000 !
[    0.381268] spmi_pmic_arb 200f000.qcom,spmi: PMIC Arb Version-2 0x20010000
[    0.389733] platform 4080000.qcom,mss: assigned reserved memory node modem_adsp_region@0
[    0.397409] mem_acc_corner: 0 <--> 0 mV
[    0.401937] hw-breakpoint: found 5 (+1 reserved) breakpoint and 4 watchpoint registers.
[    0.408966] hw-breakpoint: maximum watchpoint size is 8 bytes.
[    0.416287] __of_mpm_init(): MPM driver mapping exists
[    0.420940] msm_rpm_glink_dt_parse: qcom,rpm-glink compatible not matches
[    0.427235] msm_rpm_dev_probe: APSS-RPM communication over SMD
[    0.432977] smd_open() before smd_init()
[    0.437544] msm_mpm_dev_probe(): Cannot get clk resource for XO: -517
[    0.445730] smd_channel_probe_now: allocation table not initialized
[    0.453100] mdm9607_s1: 1050 <--> 1350 mV at 1225 mV normal idle
[    0.458566] spm_regulator_probe: name=mdm9607_s1, range=LV, voltage=1225000 uV, mode=AUTO, step rate=4800 uV/us
[    0.468817] cpr_efuse_init: apc_corner: efuse_addr = 0x000a4000 (len=0x1000)
[    0.475353] cpr_read_fuse_revision: apc_corner: fuse revision = 2
[    0.481345] cpr_parse_speed_bin_fuse: apc_corner: [row: 37]: 0x79e8bd327e6ba58c, speed_bits = 4
[    0.490124] cpr_pvs_init: apc_corner: pvs voltage: [1050000 1100000 1275000] uV
[    0.497342] cpr_pvs_init: apc_corner: ceiling voltage: [1050000 1225000 1350000] uV
[    0.504979] cpr_pvs_init: apc_corner: floor voltage: [1050000 1050000 1150000] uV
[    0.513125] i2c-msm-v2 78b8000.i2c: probing driver i2c-msm-v2
[    0.518335] i2c-msm-v2 78b8000.i2c: error on clk_get(core_clk):-517
[    0.524478] i2c-msm-v2 78b8000.i2c: error probe() failed with err:-517
[    0.531111] i2c-msm-v2 78b7000.i2c: probing driver i2c-msm-v2
[    0.536788] i2c-msm-v2 78b7000.i2c: error on clk_get(core_clk):-517
[    0.542886] i2c-msm-v2 78b7000.i2c: error probe() failed with err:-517
[    0.549618] i2c-msm-v2 78b9000.i2c: probing driver i2c-msm-v2
[    0.555202] i2c-msm-v2 78b9000.i2c: error on clk_get(core_clk):-517
[    0.561374] i2c-msm-v2 78b9000.i2c: error probe() failed with err:-517
[    0.570613] msm-thermal soc:qcom,msm-thermal: msm_thermal:Failed reading node=/soc/qcom,msm-thermal, key=qcom,core-limit-temp. err=-22. KTM continues
[    0.583049] msm-thermal soc:qcom,msm-thermal: probe_therm_reset:Failed reading node=/soc/qcom,msm-thermal, key=qcom,therm-reset-temp err=-22. KTM continues
[    0.596926] msm_thermal:msm_thermal_dev_probe Failed reading node=/soc/qcom,msm-thermal, key=qcom,online-hotplug-core. err:-517
[    0.609370] sps:sps is ready.
[    0.613137] msm_rpm_glink_dt_parse: qcom,rpm-glink compatible not matches
[    0.619020] msm_rpm_dev_probe: APSS-RPM communication over SMD
[    0.625773] mdm9607_s2: 750 <--> 1275 mV at 750 mV normal idle
[    0.631584] mdm9607_s3_level: 0 <--> 0 mV at 0 mV normal idle
[    0.637085] mdm9607_s3_level_ao: 0 <--> 0 mV at 0 mV normal idle
[    0.643092] mdm9607_s3_floor_level: 0 <--> 0 mV at 0 mV normal idle
[    0.649512] mdm9607_s3_level_so: 0 <--> 0 mV at 0 mV normal idle
[    0.655750] mdm9607_s4: 1800 <--> 1950 mV at 1800 mV normal idle
[    0.661791] mdm9607_l1: 1250 mV normal idle
[    0.666090] mdm9607_l2: 1800 mV normal idle
[    0.670276] mdm9607_l3: 1800 mV normal idle
[    0.674541] mdm9607_l4: 3075 mV normal idle
[    0.678743] mdm9607_l5: 1700 <--> 3050 mV at 1700 mV normal idle
[    0.684904] mdm9607_l6: 1700 <--> 3050 mV at 1700 mV normal idle
[    0.690892] mdm9607_l7: 1700 <--> 1900 mV at 1700 mV normal idle
[    0.697036] mdm9607_l8: 1800 mV normal idle
[    0.701238] mdm9607_l9: 1200 <--> 1250 mV at 1200 mV normal idle
[    0.707367] mdm9607_l10: 1050 mV normal idle
[    0.711662] mdm9607_l11: 1800 mV normal idle
[    0.716089] mdm9607_l12_level: 0 <--> 0 mV at 0 mV normal idle
[    0.721717] mdm9607_l12_level_ao: 0 <--> 0 mV at 0 mV normal idle
[    0.727946] mdm9607_l12_level_so: 0 <--> 0 mV at 0 mV normal idle
[    0.734099] mdm9607_l12_floor_lebel: 0 <--> 0 mV at 0 mV normal idle
[    0.740706] mdm9607_l13: 1800 <--> 2850 mV at 2850 mV normal idle
[    0.746883] mdm9607_l14: 2650 <--> 3000 mV at 2650 mV normal idle
[    0.752515] msm_mpm_dev_probe(): Cannot get clk resource for XO: -517
[    0.759036] cpr_efuse_init: apc_corner: efuse_addr = 0x000a4000 (len=0x1000)
[    0.765807] cpr_read_fuse_revision: apc_corner: fuse revision = 2
[    0.771809] cpr_parse_speed_bin_fuse: apc_corner: [row: 37]: 0x79e8bd327e6ba58c, speed_bits = 4
[    0.780586] cpr_pvs_init: apc_corner: pvs voltage: [1050000 1100000 1275000] uV
[    0.787808] cpr_pvs_init: apc_corner: ceiling voltage: [1050000 1225000 1350000] uV
[    0.795443] cpr_pvs_init: apc_corner: floor voltage: [1050000 1050000 1150000] uV
[    0.803094] cpr_init_cpr_parameters: apc_corner: up threshold = 2, down threshold = 3
[    0.810752] cpr_init_cpr_parameters: apc_corner: CPR is enabled by default.
[    0.817687] cpr_init_cpr_efuse: apc_corner: [row:65] = 0x15000277277383
[    0.824272] cpr_init_cpr_efuse: apc_corner: CPR disable fuse = 0
[    0.830225] cpr_init_cpr_efuse: apc_corner: Corner[1]: ro_sel = 0, target quot = 631
[    0.837976] cpr_init_cpr_efuse: apc_corner: Corner[2]: ro_sel = 0, target quot = 631
[    0.845703] cpr_init_cpr_efuse: apc_corner: Corner[3]: ro_sel = 0, target quot = 899
[    0.853592] cpr_config: apc_corner: Timer count: 0x17700 (for 5000 us)
[    0.860426] apc_corner: 0 <--> 0 mV
[    0.864044] i2c-msm-v2 78b8000.i2c: probing driver i2c-msm-v2
[    0.869261] i2c-msm-v2 78b8000.i2c: error on clk_get(core_clk):-517
[    0.875492] i2c-msm-v2 78b8000.i2c: error probe() failed with err:-517
[    0.882225] i2c-msm-v2 78b7000.i2c: probing driver i2c-msm-v2
[    0.887775] i2c-msm-v2 78b7000.i2c: error on clk_get(core_clk):-517
[    0.893941] i2c-msm-v2 78b7000.i2c: error probe() failed with err:-517
[    0.900719] i2c-msm-v2 78b9000.i2c: probing driver i2c-msm-v2
[    0.906256] i2c-msm-v2 78b9000.i2c: error on clk_get(core_clk):-517
[    0.912430] i2c-msm-v2 78b9000.i2c: error probe() failed with err:-517
[    0.919472] msm-thermal soc:qcom,msm-thermal: msm_thermal:Failed reading node=/soc/qcom,msm-thermal, key=qcom,core-limit-temp. err=-22. KTM continues
[    0.932372] msm-thermal soc:qcom,msm-thermal: probe_therm_reset:Failed reading node=/soc/qcom,msm-thermal,
key=qcom,therm-reset-temp err=-22. KTM continues
[    0.946361] msm_thermal:get_kernel_cluster_info CPU0 topology not initialized.
[    0.953824] cpu cpu0: dev_pm_opp_get_opp_count: device OPP not found (-19)
[    0.960300] msm_thermal:get_cpu_freq_plan_len Error reading CPU0 freq table len. error:-19
[    0.968533] msm_thermal:vdd_restriction_reg_init Defer vdd rstr freq init.
[    0.975846] cpu cpu0: dev_pm_opp_get_opp_count: device OPP not found (-19)
[    0.982219] msm_thermal:get_cpu_freq_plan_len Error reading CPU0 freq table len. error:-19
[    0.991378] cpu cpu0: dev_pm_opp_get_opp_count: device OPP not found (-19)
[    0.997544] msm_thermal:get_cpu_freq_plan_len Error reading CPU0 freq table len. error:-19
[    1.013642] qcom,gcc-mdm9607 1800000.qcom,gcc: Registered GCC clocks
[    1.019451] clock-a7 b010008.qcom,clock-a7: Speed bin: 4 PVS Version: 0
[    1.025693] a7ssmux: set OPP pair(400000000 Hz: 1 uV) on cpu0
[    1.031314] a7ssmux: set OPP pair(1305600000 Hz: 7 uV) on cpu0
[    1.038805] i2c-msm-v2 78b8000.i2c: probing driver i2c-msm-v2
[    1.043587] AXI: msm_bus_scale_register_client(): msm_bus_scale_register_client: Bus driver not ready.
[    1.052935] i2c-msm-v2 78b8000.i2c: msm_bus_scale_register_client(mstr-id:86):0 (not a problem)
[    1.062006] irq: no irq domain found for /soc/wcd9xxx-irq !
[    1.069884] i2c-msm-v2 78b7000.i2c: probing driver i2c-msm-v2
[    1.074814] AXI: msm_bus_scale_register_client(): msm_bus_scale_register_client: Bus driver not ready.
[    1.083716] i2c-msm-v2 78b7000.i2c: msm_bus_scale_register_client(mstr-id:86):0 (not a problem)
[    1.093850] i2c-msm-v2 78b9000.i2c: probing driver i2c-msm-v2
[    1.098889] AXI: msm_bus_scale_register_client(): msm_bus_scale_register_client: Bus driver not ready.
[    1.107779] i2c-msm-v2 78b9000.i2c: msm_bus_scale_register_client(mstr-id:86):0 (not a problem)
[    1.167871] KPI: Bootloader start count = 24097
[    1.171364] KPI: Bootloader end count = 48481
[    1.175855] KPI: Bootloader display count = 3884474147
[    1.180825] KPI: Bootloader load kernel count = 16420
[    1.185905] KPI: Kernel MPM timestamp = 105728
[    1.190286] KPI: Kernel MPM Clock frequency = 32768
[    1.195209] socinfo_print: v0.10, id=297, ver=1.0, raw_id=72, raw_ver=0, hw_plat=8, hw_plat_ver=65536
[    1.195209]  accessory_chip=0, hw_plat_subtype=0, pmic_model=65539, pmic_die_revision=131074 foundry_id=0 serial_number=2120983948
[    1.216731] sdcard_ext_vreg: no parameters
[    1.220555] rome_vreg: no parameters
[    1.224133] emac_lan_vreg: no parameters
[    1.228177] usbcore: registered new interface driver usbfs
[    1.233156] usbcore: registered new interface driver hub
[    1.238578] usbcore: registered new device driver usb
[    1.244507] cpufreq: driver msm up and running
[    1.248425] ION heap system created
[    1.251895] msm_bus_fabric_init_driver
[    1.262563] qcom,qpnp-power-on qpnp-power-on-c7303800: PMIC@SID0 Power-on reason: Triggered from PON1 (secondary PMIC) and 'cold' boot
[    1.273747] qcom,qpnp-power-on qpnp-power-on-c7303800: PMIC@SID0: Power-off reason: Triggered from UVLO (Under Voltage Lock Out)
[    1.285430] input: qpnp_pon as /devices/virtual/input/input0
[    1.291246] PMIC@SID0: PM8019 v2.2 options: 3, 2, 2, 2
[    1.296706] Advanced Linux Sound Architecture Driver Initialized.
[    1.302493] Add group failed
[    1.305291] cfg80211: Calling CRDA to update world regulatory domain
[    1.311216] cfg80211: World regulatory domain updated:
[    1.317109] Switched to clocksource arch_mem_counter
[    1.334091] cfg80211:  DFS Master region: unset
[    1.337418] cfg80211:   (start_freq - end_freq @ bandwidth), (max_antenna_gain, max_eirp), (dfs_cac_time)
[    1.354087] cfg80211:   (2402000 KHz - 2472000 KHz @ 40000 KHz), (N/A, 2000 mBm), (N/A)
[    1.361055] cfg80211:   (2457000 KHz - 2482000 KHz @ 40000 KHz), (N/A, 2000 mBm), (N/A)
[    1.370545] NET: Registered protocol family 2
[    1.374082] cfg80211:   (2474000 KHz - 2494000 KHz @ 20000 KHz), (N/A, 2000 mBm), (N/A)
[    1.381851] cfg80211:   (5170000 KHz - 5250000 KHz @ 80000 KHz), (N/A, 2000 mBm), (N/A)
[    1.389876] cfg80211:   (5250000 KHz - 5330000 KHz @ 80000 KHz), (N/A, 2000 mBm), (N/A)
[    1.397857] cfg80211:   (5490000 KHz - 5710000 KHz @ 80000 KHz), (N/A, 2000 mBm), (N/A)
[    1.405841] cfg80211:   (5735000 KHz - 5835000 KHz @ 80000 KHz), (N/A, 2000 mBm), (N/A)
[    1.413795] cfg80211:   (57240000 KHz - 63720000 KHz @ 2160000 KHz), (N/A, 0 mBm), (N/A)
[    1.422355] TCP established hash table entries: 1024 (order: 0, 4096 bytes)
[    1.428921] TCP bind hash table entries: 1024 (order: 0, 4096 bytes)
[    1.435192] TCP: Hash tables configured (established 1024 bind 1024)
[    1.441528] TCP: reno registered
[    1.444738] UDP hash table entries: 256 (order: 0, 4096 bytes)
[    1.450521] UDP-Lite hash table entries: 256 (order: 0, 4096 bytes)
[    1.456950] NET: Registered protocol family 1
[    1.462779] futex hash table entries: 256 (order: -1, 3072 bytes)
[    1.474555] msgmni has been set to 115
[    1.478551] Block layer SCSI generic (bsg) driver version 0.4 loaded (major 251)
[    1.485041] io scheduler noop registered
[    1.488818] io scheduler deadline registered
[    1.493200] io scheduler cfq registered (default)
[    1.502142] msm_rpm_log_probe: OK
[    1.506717] msm_serial_hs module loaded
[    1.509803] msm_serial_hsl_probe: detected port #0 (ttyHSL0)
[    1.515324] AXI: get_pdata(): Error: Client name not found
[    1.520626] AXI: msm_bus_cl_get_pdata(): client has to provide missing entry for successful registration
[    1.530171] msm_serial_hsl_probe: Bus scaling is disabled                      [    1.074814] AXI: msm_bus_scale_register_client(): msm_bus_scale_register_client: Bus driver not ready.
[    1.083716] i2c-msm-v2 78b7000.i2c: msm_bus_scale_register_client(mstr-id:86):0 (not a problem)
[    1.093850] i2c-msm-v2 78b9000.i2c: probing driver i2c-msm-v2
[    1.098889] AXI: msm_bus_scale_register_client(): msm_bus_scale_register_client: Bus driver not ready.
[    1.107779] i2c-msm-v2 78b9000.i2c: msm_bus_scale_register_client(mstr-id:86):0 (not a problem)
[    1.167871] KPI: Bootloader start count = 24097
[    1.171364] KPI: Bootloader end count = 48481
[    1.175855] KPI: Bootloader display count = 3884474147
[    1.180825] KPI: Bootloader load kernel count = 16420
[    1.185905] KPI: Kernel MPM timestamp = 105728
[    1.190286] KPI: Kernel MPM Clock frequency = 32768
[    1.195209] socinfo_print: v0.10, id=297, ver=1.0, raw_id=72, raw_ver=0, hw_plat=8, hw_plat_ver=65536
[    1.195209]  accessory_chip=0, hw_plat_subtype=0, pmic_model=65539, pmic_die_revision=131074 foundry_id=0 serial_number=2120983948
[    1.216731] sdcard_ext_vreg: no parameters
[    1.220555] rome_vreg: no parameters
[    1.224133] emac_lan_vreg: no parameters
[    1.228177] usbcore: registered new interface driver usbfs
[    1.233156] usbcore: registered new interface driver hub
[    1.238578] usbcore: registered new device driver usb
[    1.244507] cpufreq: driver msm up and running
[    1.248425] ION heap system created
[    1.251895] msm_bus_fabric_init_driver
[    1.262563] qcom,qpnp-power-on qpnp-power-on-c7303800: PMIC@SID0 Power-on reason: Triggered from PON1 (secondary PMIC) and 'cold' boot
[    1.273747] qcom,qpnp-power-on qpnp-power-on-c7303800: PMIC@SID0: Power-off reason: Triggered from UVLO (Under Voltage Lock Out)
[    1.285430] input: qpnp_pon as /devices/virtual/input/input0
[    1.291246] PMIC@SID0: PM8019 v2.2 options: 3, 2, 2, 2
[    1.296706] Advanced Linux Sound Architecture Driver Initialized.
[    1.302493] Add group failed
[    1.305291] cfg80211: Calling CRDA to update world regulatory domain
[    1.311216] cfg80211: World regulatory domain updated:
[    1.317109] Switched to clocksource arch_mem_counter
[    1.334091] cfg80211:  DFS Master region: unset
[    1.337418] cfg80211:   (start_freq - end_freq @ bandwidth), (max_antenna_gain, max_eirp), (dfs_cac_time)
[    1.354087] cfg80211:   (2402000 KHz - 2472000 KHz @ 40000 KHz), (N/A, 2000 mBm), (N/A)
[    1.361055] cfg80211:   (2457000 KHz - 2482000 KHz @ 40000 KHz), (N/A, 2000 mBm), (N/A)
[    1.370545] NET: Registered protocol family 2
[    1.374082] cfg80211:   (2474000 KHz - 2494000 KHz @ 20000 KHz), (N/A, 2000 mBm), (N/A)
[    1.381851] cfg80211:   (5170000 KHz - 5250000 KHz @ 80000 KHz), (N/A, 2000 mBm), (N/A)
[    1.389876] cfg80211:   (5250000 KHz - 5330000 KHz @ 80000 KHz), (N/A, 2000 mBm), (N/A)
[    1.397857] cfg80211:   (5490000 KHz - 5710000 KHz @ 80000 KHz), (N/A, 2000 mBm), (N/A)
[    1.405841] cfg80211:   (5735000 KHz - 5835000 KHz @ 80000 KHz), (N/A, 2000 mBm), (N/A)
[    1.413795] cfg80211:   (57240000 KHz - 63720000 KHz @ 2160000 KHz), (N/A, 0 mBm), (N/A)
[    1.422355] TCP established hash table entries: 1024 (order: 0, 4096 bytes)
[    1.428921] TCP bind hash table entries: 1024 (order: 0, 4096 bytes)
[    1.435192] TCP: Hash tables configured (established 1024 bind 1024)
[    1.441528] TCP: reno registered
[    1.444738] UDP hash table entries: 256 (order: 0, 4096 bytes)
[    1.450521] UDP-Lite hash table entries: 256 (order: 0, 4096 bytes)
[    1.456950] NET: Registered protocol family 1
[    1.462779] futex hash table entries: 256 (order: -1, 3072 bytes)
[    1.474555] msgmni has been set to 115
[    1.478551] Block layer SCSI generic (bsg) driver version 0.4 loaded (major 251)
[    1.485041] io scheduler noop registered
[    1.488818] io scheduler deadline registered
[    1.493200] io scheduler cfq registered (default)
[    1.502142] msm_rpm_log_probe: OK
[    1.506717] msm_serial_hs module loaded
[    1.509803] msm_serial_hsl_probe: detected port #0 (ttyHSL0)
[    1.515324] AXI: get_pdata(): Error: Client name not found
[    1.520626] AXI: msm_bus_cl_get_pdata(): client has to provide missing entry for successful registration
[    1.530171] msm_serial_hsl_probe: Bus scaling is disabled
[    1.535696] 78b3000.serial: ttyHSL0 at MMIO 0x78b3000 (irq = 153, base_baud = 460800 [    1.544155] msm_hsl_console_setup: console setup on port #0
[    1.548727] console [ttyHSL0] enabled
[    1.548727] console [ttyHSL0] enabled
[    1.556014] bootconsole [uart0] disabled
[    1.556014] bootconsole [uart0] disabled
[    1.564212] msm_serial_hsl_init: driver initialized
[    1.578450] brd: module loaded
[    1.582920] loop: module loaded
[    1.589183] sps: BAM device 0x07984000 is not registered yet.
[    1.594234] sps:BAM 0x07984000 is registered.
[    1.598072] msm_nand_bam_init: msm_nand_bam_init: BAM device registered: bam_handle 0xc69f6400
[    1.607103] sps:BAM 0x07984000 (va:0xc89a0000) enabled: ver:0x18, number of pipes:7
[    1.616588] msm_nand_parse_smem_ptable: Parsing partition table info from SMEM
[    1.622805] msm_nand_parse_smem_ptable: SMEM partition table found: ver: 4 len: 17
[    1.630391] msm_nand_version_check: nand_major:1, nand_minor:5, qpic_major:1, qpic_minor:5
[    1.638642] msm_nand_scan: NAND Id: 0x1590aa98 Buswidth: 8Bits Density: 256 MByte
[    1.646069] msm_nand_scan: pagesize: 2048 Erasesize: 131072 oobsize: 128 (in Bytes)
[    1.653676] msm_nand_scan: BCH ECC: 8 Bit
[    1.657710] msm_nand_scan: CFG0: 0x290408c0,           CFG1: 0x0804715c
[    1.657710]             RAWCFG0: 0x2b8400c0,        RAWCFG1: 0x0005055d
[    1.657710]           ECCBUFCFG: 0x00000203,      ECCBCHCFG: 0x42040d10
[    1.657710]           RAWECCCFG: 0x42000d11, BAD BLOCK BYTE: 0x000001c5
[    1.684101] Creating 17 MTD partitions on "7980000.nand":
[    1.689447] 0x000000000000-0x000000140000 : "sbl"
[    1.694867] 0x000000140000-0x000000280000 : "mibib"
[    1.699560] 0x000000280000-0x000000e80000 : "efs2"
[    1.704408] 0x000000e80000-0x000000f40000 : "tz"
[    1.708934] 0x000000f40000-0x000000fa0000 : "rpm"
[    1.713625] 0x000000fa0000-0x000001000000 : "aboot"
[    1.718582] 0x000001000000-0x0000017e0000 : "boot"
[    1.723281] 0x0000017e0000-0x000002820000 : "scrub"
[    1.728174] 0x000002820000-0x000005020000 : "modem"
[    1.732968] 0x000005020000-0x000005420000 : "rfbackup"
[    1.738156] 0x000005420000-0x000005820000 : "oem"
[    1.742770] 0x000005820000-0x000005f00000 : "recovery"
[    1.747972] 0x000005f00000-0x000009100000 : "cache"
[    1.752787] 0x000009100000-0x000009a40000 : "recoveryfs"
[    1.758389] 0x000009a40000-0x00000aa40000 : "cdrom"
[    1.762967] 0x00000aa40000-0x00000ba40000 : "jrdresource"
[    1.768407] 0x00000ba40000-0x000010000000 : "system"
[    1.773239] msm_nand_probe: NANDc phys addr 0x7980000, BAM phys addr 0x7984000, BAM IRQ 164
[    1.781074] msm_nand_probe: Allocated DMA buffer at virt_addr 0xc7840000, phys_addr 0x87840000
[    1.791872] PPP generic driver version 2.4.2
[    1.801126] cnss_sdio 87a00000.qcom,cnss-sdio: CNSS SDIO Driver registered
[    1.807554] msm_otg 78d9000.usb: msm_otg probe
[    1.813333] msm_otg 78d9000.usb: OTG regs = c88f8000
[    1.820702] gbridge_init: gbridge_init successs.
[    1.826344] msm_otg 78d9000.usb: phy_reset: success
[    1.830294] qcom,qpnp-rtc qpnp-rtc-c7307000: rtc core: registered qpnp_rtc as rtc0
[    1.838474] i2c /dev entries driver
[    1.842459] unable to find DT imem DLOAD mode node
[    1.846588] unable to find DT imem EDLOAD mode node
[    1.851332] unable to find DT imem dload-type node
[    1.856921] bq24295-charger 4-006b: bq24295 probe enter
[    1.861161] qcom,iterm-ma = 128
[    1.864476] bq24295_otg_vreg: no parameters
[    1.868502] charger_core_register: Charger Core Version 5.0.0(Built at 20151202-21:36)!
[    1.877007] i2c-msm-v2 78b8000.i2c: msm_bus_scale_register_client(mstr-id:86):0x3 (ok)
[    1.885559] bq24295-charger 4-006b: bq24295_set_bhot_mode 3
[    1.890150] bq24295-charger 4-006b: power_good is 1,vbus_stat is 2
[    1.896588] bq24295-charger 4-006b: bq24295_set_thermal_threshold 100
[    1.902952] bq24295-charger 4-006b: bq24295_set_sys_min 3700
[    1.908639] bq24295-charger 4-006b: bq24295_set_max_target_voltage 4150
[    1.915223] bq24295-charger 4-006b: bq24295_set_recharge_threshold 300
[    1.922119] bq24295-charger 4-006b: bq24295_set_terminal_current_limit iterm_disabled=0, iterm_ma=128
[    1.930917] bq24295-charger 4-006b: bq24295_set_precharge_current_limit bdi->prech_cur=128
[    1.940038] bq24295-charger 4-006b: bq24295_set_safty_timer 0
[    1.945088] bq24295-charger 4-006b: bq24295_set_input_voltage_limit 4520
[    1.972949] sdhci: Secure Digital Host Controller Interface driver
[    1.978151] sdhci: Copyright(c) Pierre Ossman
[    1.982441] sdhci-pltfm: SDHCI platform and OF driver helper
[    1.989092] sdhci_msm 7824900.sdhci: sdhci_msm_probe: ICE device is not enabled
[    1.995473] sdhci_msm 7824900.sdhci: No vreg data found for vdd
[    2.001530] sdhci_msm 7824900.sdhci: sdhci_msm_pm_qos_parse_irq: error -22 reading irq cpu
[    2.009809] sdhci_msm 7824900.sdhci: sdhci_msm_pm_qos_parse: PM QoS voting for IRQ will be disabled
[    2.018600] sdhci_msm 7824900.sdhci: sdhci_msm_pm_qos_parse: PM QoS voting for cpu group will be disabled
[    2.030541] sdhci_msm 7824900.sdhci: sdhci_msm_probe: sdiowakeup_irq = 353
[    2.036867] sdhci_msm 7824900.sdhci: No vmmc regulator found
[    2.042027] sdhci_msm 7824900.sdhci: No vqmmc regulator found
[    2.048266] mmc0: SDHCI controller on 7824900.sdhci [7824900.sdhci] using 32-bit ADMA in legacy mode
[    2.080401] Welcome to pca955x_probe!!
[    2.084362] leds-pca955x 3-0020: leds-pca955x: Using pca9555 16-bit LED driver at slave address 0x20
[    2.095400] sdhci_msm 7824900.sdhci: card claims to support voltages below defined range
[    2.103125] i2c-msm-v2 78b7000.i2c: msm_bus_scale_register_client(mstr-id:86):0x5 (ok)
[    2.114183] msm_otg 78d9000.usb: Avail curr from USB = 1500
[    2.120251] come to USB_SDP_CHARGER!
[    2.123215] Welcome to sn3199_probe!
[    2.126718] leds-sn3199 5-0064: leds-sn3199: Using sn3199 9-bit LED driver at slave address 0x64
[    2.136511] sn3199->led_en_gpio=21
[    2.139143] i2c-msm-v2 78b9000.i2c: msm_bus_scale_register_client(mstr-id:86):0x6 (ok)
[    2.150207] usbcore: registered new interface driver usbhid
[    2.154864] usbhid: USB HID core driver
[    2.159825] sps:BAM 0x078c4000 is registered.
[    2.163573] bimc-bwmon 408000.qcom,cpu-bwmon: BW HWmon governor registered.
[    2.171080] devfreq soc:qcom,cpubw: Couldn't update frequency transition information.
[    2.178513] coresight-fuse a601c.fuse: QPDI fuse not specified
[    2.184242] coresight-fuse a601c.fuse: Fuse initialized
[    2.192407] coresight-csr 6001000.csr: CSR initialized
[    2.197263] coresight-tmc 6026000.tmc: Byte Counter feature enabled
[    2.203204] sps:BAM 0x06084000 is registered.
[    2.207301] coresight-tmc 6026000.tmc: TMC initialized
[    2.212681] coresight-tmc 6025000.tmc: TMC initialized
[    2.220071] nidnt boot config: 0
[    2.224563] mmc0: new ultra high speed SDR50 SDIO card at address 0001
[    2.231120] coresight-tpiu 6020000.tpiu: NIDnT on SDCARD only mode
[    2.236440] coresight-tpiu 6020000.tpiu: TPIU initialized
[    2.242808] coresight-replicator 6024000.replicator: REPLICATOR initialized
[    2.249372] coresight-stm 6002000.stm: STM initialized
[    2.255034] coresight-hwevent 606c000.hwevent: Hardware Event driver initialized
[    2.262312] Netfilter messages via NETLINK v0.30.
[    2.266306] nf_conntrack version 0.5.0 (920 buckets, 3680 max)
[    2.272312] ctnetlink v0.93: registering with nfnetlink.
[    2.277565] ip_set: protocol 6
[    2.280568] ip_tables: (C) 2000-2006 Netfilter Core Team
[    2.285723] arp_tables: (C) 2002 David S. Miller
[    2.290146] TCP: cubic registered
[    2.293915] NET: Registered protocol family 10
[    2.298740] ip6_tables: (C) 2000-2006 Netfilter Core Team
[    2.303407] sit: IPv6 over IPv4 tunneling driver
[    2.308481] NET: Registered protocol family 17
[    2.312340] bridge: automatic filtering via arp/ip/ip6tables has been deprecated. Update your scripts to load br_netfilter if you need this.
[    2.325094] Bridge firewalling registered
[    2.328930] Ebtables v2.0 registered
[    2.333260] NET: Registered protocol family 27
[    2.341362] battery_core_register: Battery Core Version 5.0.0(Built at 20151202-21:36)!
[    2.348466] pmu_battery_probe: vbat_channel=21, tbat_channel=17
[    2.420236] ubi0: attaching mtd16
[    2.723941] ubi0: scanning is finished
[    2.732997] ubi0: attached mtd16 (name "system", size 69 MiB)
[    2.737783] ubi0: PEB size: 131072 bytes (128 KiB), LEB size: 126976 bytes
[    2.744601] ubi0: min./max. I/O unit sizes: 2048/2048, sub-page size 2048
[    2.751333] ubi0: VID header offset: 2048 (aligned 2048), data offset: 4096
[    2.758540] ubi0: good PEBs: 556, bad PEBs: 2, corrupted PEBs: 0
[    2.764305] ubi0: user volume: 3, internal volumes: 1, max. volumes count: 128
[    2.771476] ubi0: max/mean erase counter: 192/64, WL threshold: 4096, image sequence number: 35657280
[    2.780708] ubi0: available PEBs: 0, total reserved PEBs: 556, PEBs reserved for bad PEB handling: 38
[    2.789921] ubi0: background thread "ubi_bgt0d" started, PID 96
[    2.796395] android_bind cdev: 0xC6583E80, name: ci13xxx_msm
[    2.801508] file system registered
[    2.804974] mbim_init: initialize 1 instances
[    2.809228] mbim_init: Initialized 1 ports
[    2.815074] rndis_qc_init: initialize rndis QC instance
[    2.819713] jrd device_desc.bcdDevice: [0x0242]
[    2.823779] android_bind scheduled usb start work: name: ci13xxx_msm
[    2.830230] android_usb gadget: android_usb ready
[    2.834845] msm_hsusb msm_hsusb: [ci13xxx_start] hw_ep_max = 32
[    2.840741] msm_hsusb msm_hsusb: CI13XXX_CONTROLLER_RESET_EVENT received
[    2.847433] msm_hsusb msm_hsusb: CI13XXX_CONTROLLER_UDC_STARTED_EVENT received
[    2.855851] input: gpio-keys as /devices/soc:gpio_keys/input/input1
[    2.861452] qcom,qpnp-rtc qpnp-rtc-c7307000: setting system clock to 1970-01-01 06:36:41 UTC (23801)
[    2.870315] open file error /usb_conf/usb_config.ini
[    2.876412] jrd_usb_start_work open file erro /usb_conf/usb_config.ini, retry_count:0
[    2.884324] parse_legacy_cluster_params(): Ignoring cluster params
[    2.889468] ------------[ cut here ]------------
[    2.894186] WARNING: CPU: 0 PID: 1 at /home/linux3/jrd/yanping.an/ee40/0810/MDM9607.LE.1.0-00130/apps_proc/oe-core/build/tmp-glibc/work-shared/mdm9607/kernel-source/drivers/cpuidle/lpm-levels-of.c:739 parse_cluster+0xb50/0xcb4()
[    2.914366] Modules linked in:
[    2.917339] CPU: 0 PID: 1 Comm: swapper Not tainted 3.18.20 #1
[    2.923171] [<c00132ac>] (unwind_backtrace) from [<c0011460>] (show_stack+0x10/0x14)
[    2.931092] [<c0011460>] (show_stack) from [<c001c6ac>] (warn_slowpath_common+0x68/0x88)
[    2.939175] [<c001c6ac>] (warn_slowpath_common) from [<c001c75c>] (warn_slowpath_null+0x18/0x20)
[    2.947895] [<c001c75c>] (warn_slowpath_null) from [<c034e180>] (parse_cluster+0xb50/0xcb4)
[    2.956189] [<c034e180>] (parse_cluster) from [<c034b6b4>] (lpm_probe+0xc/0x1d4)
[    2.963527] [<c034b6b4>] (lpm_probe) from [<c024857c>] (platform_drv_probe+0x30/0x7c)
[    2.971380] [<c024857c>] (platform_drv_probe) from [<c0246d54>] (driver_probe_device+0xb8/0x1e8)
[    2.980118] [<c0246d54>] (driver_probe_device) from [<c0246f30>] (__driver_attach+0x68/0x8c)
[    2.988467] [<c0246f30>] (__driver_attach) from [<c02455d0>] (bus_for_each_dev+0x6c/0x90)
[    2.996626] [<c02455d0>] (bus_for_each_dev) from [<c02465a4>] (bus_add_driver+0xe0/0x1c8)
[    3.004786] [<c02465a4>] (bus_add_driver) from [<c02477bc>] (driver_register+0x9c/0xe0)
[    3.012739] [<c02477bc>] (driver_register) from [<c080c3d8>] (lpm_levels_module_init+0x14/0x38)
[    3.021459] [<c080c3d8>] (lpm_levels_module_init) from [<c0008980>] (do_one_initcall+0xf8/0x1a0)
[    3.030217] [<c0008980>] (do_one_initcall) from [<c07e7d4c>] (kernel_init_freeable+0xf0/0x1b0)
[    3.038818] [<c07e7d4c>] (kernel_init_freeable) from [<c0582d48>] (kernel_init+0x8/0xe4)
[    3.046888] [<c0582d48>] (kernel_init) from [<c000dda0>] (ret_from_fork+0x14/0x34)
[    3.054432] ---[ end trace e9ec50b1ec4c8f73 ]---
[    3.059012] ------------[ cut here ]------------
[    3.063604] WARNING: CPU: 0 PID: 1 at /home/linux3/jrd/yanping.an/ee40/0810/MDM9607.LE.1.0-00130/apps_proc/oe-core/build/tmp-glibc/work-shared/mdm9607/kernel-source/drivers/cpuidle/lpm-levels-of.c:739 parse_cluster+0xb50/0xcb4()
[    3.083858] Modules linked in:
[    3.086870] CPU: 0 PID: 1 Comm: swapper Tainted: G        W      3.18.20 #1
[    3.093814] [<c00132ac>] (unwind_backtrace) from [<c0011460>] (show_stack+0x10/0x14)
[    3.101575] [<c0011460>] (show_stack) from [<c001c6ac>] (warn_slowpath_common+0x68/0x88)
[    3.109641] [<c001c6ac>] (warn_slowpath_common) from [<c001c75c>] (warn_slowpath_null+0x18/0x20)
[    3.118412] [<c001c75c>] (warn_slowpath_null) from [<c034e180>] (parse_cluster+0xb50/0xcb4)
[    3.126745] [<c034e180>] (parse_cluster) from [<c034b6b4>] (lpm_probe+0xc/0x1d4)
[    3.134126] [<c034b6b4>] (lpm_probe) from [<c024857c>] (platform_drv_probe+0x30/0x7c)
[    3.141906] [<c024857c>] (platform_drv_probe) from [<c0246d54>] (driver_probe_device+0xb8/0x1e8)
[    3.150702] [<c0246d54>] (driver_probe_device) from [<c0246f30>] (__driver_attach+0x68/0x8c)
[    3.159120] [<c0246f30>] (__driver_attach) from [<c02455d0>] (bus_for_each_dev+0x6c/0x90)
[    3.167285] [<c02455d0>] (bus_for_each_dev) from [<c02465a4>] (bus_add_driver+0xe0/0x1c8)
[    3.175444] [<c02465a4>] (bus_add_driver) from [<c02477bc>] (driver_register+0x9c/0xe0)
[    3.183398] [<c02477bc>] (driver_register) from [<c080c3d8>] (lpm_levels_module_init+0x14/0x38)
[    3.192107] [<c080c3d8>] (lpm_levels_module_init) from [<c0008980>] (do_one_initcall+0xf8/0x1a0)
[    3.200877] [<c0008980>] (do_one_initcall) from [<c07e7d4c>] (kernel_init_freeable+0xf0/0x1b0)
[    3.209475] [<c07e7d4c>] (kernel_init_freeable) from [<c0582d48>] (kernel_init+0x8/0xe4)
[    3.217542] [<c0582d48>] (kernel_init) from [<c000dda0>] (ret_from_fork+0x14/0x34)
[    3.225090] ---[ end trace e9ec50b1ec4c8f74 ]---
[    3.229667] /soc/qcom,lpm-levels/qcom,pm-cluster@0: No CPU phandle, assuming single cluster
[    3.239954] qcom,cc-debug-mdm9607 1800000.qcom,debug: Registered Debug Mux successfully
[    3.247619] emac_lan_vreg: disabling
[    3.250507] mem_acc_corner: disabling
[    3.254196] clock_late_init: Removing enables held for handed-off clocks
[    3.262690] ALSA device list:
[    3.264732]   No soundcard [    3.274083] UBIFS (ubi0:0): background thread "ubifs_bgt0_0" started, PID 102
[    3.305224] UBIFS (ubi0:0): recovery needed
[    3.466156] UBIFS (ubi0:0): recovery completed
[    3.469627] UBIFS (ubi0:0): UBIFS: mounted UBI device 0, volume 0, name "rootfs"
[    3.476987] UBIFS (ubi0:0): LEB size: 126976 bytes (124 KiB), min./max. I/O unit sizes: 2048 bytes/2048 bytes
[    3.486876] UBIFS (ubi0:0): FS size: 45838336 bytes (43 MiB, 361 LEBs), journal size 9023488 bytes (8 MiB, 72 LEBs)
[    3.497417] UBIFS (ubi0:0): reserved for root: 0 bytes (0 KiB)
[    3.503078] UBIFS (ubi0:0): media format: w4/r0 (latest is w4/r0), UUID 4DBB2F12-34EB-43B6-839B-3BA930765BAE, small LPT model
[    3.515582] VFS: Mounted root (ubifs filesystem) on device 0:12.
[    3.520940] Freeing unused kernel memory: 276K (c07e7000 - c082c000)
INIT: version 2.88 booting