Sam
commented:
"Quality motion. This is exactly the point that I raise at just about every committee meeting I attend, but to have it formally supported by the wider membership is a good step. If things don't improve soon, we should try that line of attack in the Central and Eastern region."
One suggestion in the debate was to have a co-operatives fortnight, similar to the fairtrade fortnight, to promote the Co-operative Group (tCG) membership, other tCG businesses and other local cooperatives. Let's see whether SW can lead the way again! ;-)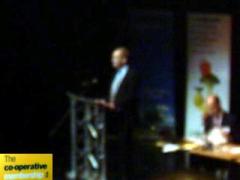 The question-and-answer session was pretty interesting. All of the questions were submitted in writing. Some of them were submitted in advance and others during the lunch break. No spoken questions were taken and most Insurance (CIS) and Bank questions were held back because no-one from financial services was there. The answers were grouped under a few headings.
Ethics, answersed by Catherine Staveley

CIS's voting record is public, but some details are buried under sustainabiliy on the group's corporate web site.
The panel were asked to define a few terms. By ethical, tCG means generally being "a good neighbour". Materiality is how much a business relates to tCG's aims and they think shelf penetration is how much space and promotion a product gets in the stores. The financial services profits aim to be all-ethical.
Members were asked to please take part in the consultations about the new food retail ethical policy.
tCG has a "triple bottom line" - in addition to looking at profits, we also consider our effects on our communities and sustainability.
tCG is leading the way on packaging minimisation: onion nets are already biodegradable, work continues on developing biodegradable fruit nets and a new light-weight (but still strong) whiskey bottle has just been launched. We'll see whether it's possible to give more dividend points for buying less packaged goods.

Food retail, answered by David Parker (regional food), Gary Metcalfe (operations), Clive Netherway (top 100 stores) and Nick Lowe (sales and support)

Local stores: Minehead Post Office contracts have been exchanged and planning permission granted in Budleigh Salterton - both sites should be ready in a couple of months.
There are new small stores at Amesbury, Ilfracombe, Perranport and Lyneham (where it's hurting Tesco Express more than anyone). tCG have also acquired 7 stores from Higgins, one from Savages and a petrol station with minimarket in Bath. Dawlish has just opened, giving a total of 14 new stores. In addition, 50 stores are being refitted in the south-west region.
The Falmouth store is a bit of a puzzle: whether to split the existing store or develop a nearby site.
tCG stores have outperformed the The Institute of Grocery Distribution index for 15 months in a row and is now seeing growth-on-growth.
Problems with product stocking should be taken up with store managers first.
Home delivery has been trialled and failed several times, but is being trialled again in the new OCO stores. (What does OCO mean? There's one at Portishead.)
Supply problems with RSPCA Freedom Foods meats will be investigated.
The Westbury-on-Trim Stoke Lane store will only be expanded if its turnover increases.
Suppliers are still letting some stores down on delivery times. This will be re-checked.
The best response to the crocodile community projects of other companies is to strengthen tCG's community project funding in areas before other supermarkets open new stores.
Local produce is rarely stocked because of problems with availability and meeting tCG technical standards (I could almost hear the hackles raise at this answer!). Organic is only usually stocked in areas where surveys suggest the target audience lives (which I guess is why my tatty 60s store has more sweets and sugar drinks than fresh food). Similar biases exist for other ranges.
Missing product complaints will get written answers: Clipper tea and sugar-free Mintoes.
There was a complaint about the lack of notices about the unique status of co-op milk. (In short, we own our farms so our milk had better not be getting abused.)

Corporate questions, answered by Frank Jones

Compensations of the merged tCG/United Co-op societies are shown on page 12 of Stronger Together.
There was a question about a 10% profit target which I didn't understand. The answer was on page 13 of the annual report.
Party politicians were in the hall.
The results of the merger meetings were unknown at the time.
The Co-operative Funerals are derecognising the GMB union, which has worried many members. The comment from the floor was "there's usually one motive for derecognising a union"!
There's a 16% pay increase for executives who don't join tCG's pension fund, which is what would have been paid into the fund for them. Whether it applies to all employees will be checked and a written reply given.

Strategic questions, answered by David Doyle

Travel offers will be promoted in the food stores. tCG wants to avoid "silo" businesses which don't cross-promote with other businesses where appropriate.
Leaflets of other tCG and other co-ops should be stocked, particularly at festive times.
Offsetting CO2 is not a complete answer to climate change, but it was the only one of five suggested actions which was approved. Is the Co-operative Travel chain underperforming because it doesn't offer enough ethical choices? Some shouting from the floor about them still not offering European rail tickets.
The regional view of the United merger... This was nicely controversial, as it bloody well ought to be... There's no requirement for a tCG membership vote, so there will be no tCG membership vote. There was a hierarchical vote: very few of the Cornwall area turned up at the regional meeting in Bristol, but Devon and Somerset turned out in numbers and the south-west's delegates to the national meeting voted against 5 of the 6 merger resolutions, which were passed anyway. The chair stepped in and cut short the debate, stating that everyone knows the south-west is unhappy about certain aspects, like not having a choice on the first merged chief executive, but what's done is done.
Finally, a list of questions being sent for written answers were given by Andrew North and the chair (was it Colin House? It's annoying to find one name and lose another).